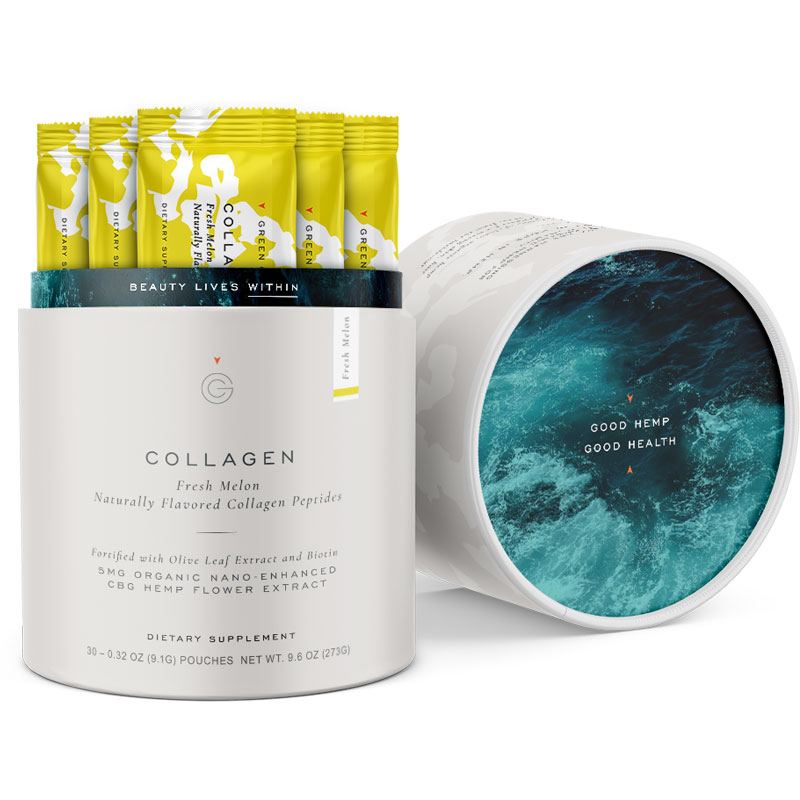 Collagen - Fresh Melon
$89.56
$111.95 Retail Customer
Share
Log in to share this link using your FriendShare code and earn $10 for you and each of your friends!
Benefits
Organic nano-enhanced CBG has been called the 'Mother of All Cannabinoids' and is shown to have a myriad of benefits to your body, mind and overall wellness

Hydrolyzed Collagen powder blend from 3 carefully sourced forms, helps restore healthy collagen levels with a rich and diverse amino acid profile

Helps protect connective tissue, supports healthy joints and muscles

Improves skin's moisture and skin elasticity

Protects skin from oxidative stress and a full spectrum of radicals

Gives skin a natural glow that promotes healthy aging

Beauty from within for glowing skin, strong hair and nails
Product Information
Infused with Organic Nano-Enhanced CBG Hemp Flower Extract
30 servings
Our collagen harnesses the power of clean, organic hemp to experience the ultimate support for strong skin, hair and nails. Collagen peptide blend from a trifecta of sources helps restore healthy collagen levels while botanicals and vitamins protect skin from oxidative stress, improve hydration and elasticity giving skin a natural glow that promotes healthy aging. Easy to use, on-the-go beauty, supports skin integrity from the inside out.
Features:
Marine collagen is the north star of environmental innovation derived from wild-caught fish

Bovine collagen peptides from grass fed and pasture raised bovine hide

Eggshell collagen supports skin health and healthy joints

Collagen peptides blend supports skin integrity from the inside out

Helps prepare skin for topical skincare
Perfect on-the-go solution

Add to water, favorite shake or smoothie, or even a cup of coffee!
Suggested Use: Mix one packet with 8-12oz of cold water and mix thoroughly.
Ingredients: Bovine Collagen, Natural Flavors, Citric Acid, Fish Collagen, Calcified Seaweed, Ascorbic Acid, Organic Tapioca Maltodextrin, Eggshell Collagen, Organic Stevia, Organic Quillaja Extract, d-Alpha Tocopheryl Acetate, Olive Leaf Extract, Organic Fractionated Coconut Oil, Hemp Extract CBG Isolate, Biotin
Always consult your physician before using Hemp Extract products.
*All Green Compass products, including Broad Spectrum and Boost, could contain very trace amounts of THC that are below detectable levels by our third party lab tests. Products are tested by using liquid chromatography, detecting THC levels over 100 PPM. If you are subject to drug testing then you may want to consult with the testing facility and your employer before using these products. Green Compass cannot guarantee the outcome of customer drug tests.

*These statements have not been evaluated by the Food and Drug Administration. These products are not intended to diagnose, treat, cure or prevent any disease.