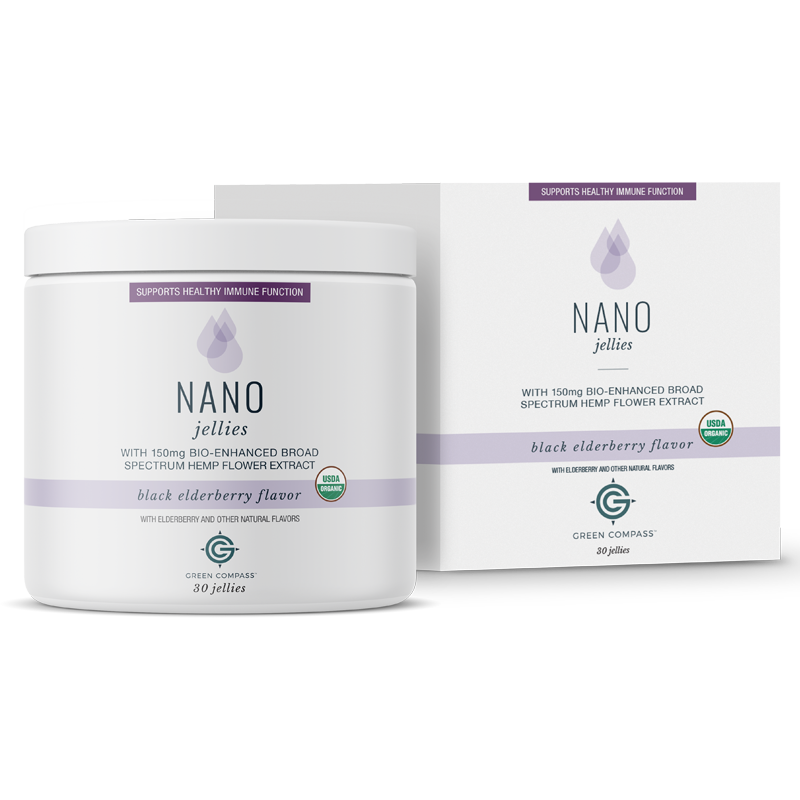 Best Seller
Black Elderberry Nano Jellies
$95.96
$119.95 Retail Customer
Share
Log in to share this link using your FriendShare code and earn $10 for you and each of your friends!
Benefits
Nano-emulsion provides greater bioavailability, up to 10x that of a tincture. Therefore, a much smaller dose grants the same benefits.
Choose this as an alternative to a tincture if you prefer this delivery method. Both options yield amazing results.
Portable and easy to use on the go.
Black Elderberries and Acerola Cherries
These fruits support a strong immune system through their high levels of antioxidants and Vitamin C. Elderberries are also rich in anthocyanins which provide powerful antioxidant support and support a healthy immune system.
Chaga, Reishi, and Maitake Mushrooms
These mushrooms provide additional immune support through a winning combination of antioxidants and beta glucans. Rich with nutrients, Chaga helps protect against free radical damage while Maitake has been connected to assisting with the body's stress response and maintaining healthy blood-sugar levels. Reishi has been linked with supporting white blood cells in immune response.
Product Information
30 JELLIES | 150MG BIO-ENHANCED BROAD
SPECTRUM HEMP FLOWER EXTRACT
PRODUCT FEATURES:
Each edible Jelly contains 5mg of proprietary, USDA Certified Organic, nano-enhanced, water-soluble Broad Spectrum Hemp Flower Extract
Each 5mg Jelly is equivalent to a single 750mg-1,000mg tincture dose
USDA Certifi ed Organic Flavors derived from black elderberries and acerola cherries
THC Free* - created using proprietary, USDA Certified Organic THC remediation processes
SUGGESTED USE:
Take 1-2 Jellies per day as needed
Please consult your physician before giving to young children, or if you are pregnant, breastfeeding, or taking other medications
Store in a cool, dry place. Suggested storing in the refrigerator, although this is not required
Ingredients
Organic Agave Syrup, Organic Cane Sugar, Water, Organic Elderberry Juice Concentrate, Organic Lemon Juice Concentrate, Natural Flavors, Pectin, Organic Acerola, Organic Elderberry Juice Powder, Organic Acacia Gum, Organic Glycerin, Organic Sunfl ower Lecithin, Organic Fractionated Coconut Oil, Organic Chaga Mushroom Extract, Organic Reishi Mushroom Extract, Organic Maitake Mushroom Extract, Organic Broad Spectrum Hemp Flower Extract, Organic Quillaja Extract, Citric Acid
Always consult your physician before using Hemp Extract products.
*All Green Compass products, including Broad Spectrum and Boost, could contain very trace amounts of THC that are below detectable levels by our third party lab tests. Products are tested by using liquid chromatography, detecting THC levels over 100 PPM. If you are subject to drug testing then you may want to consult with the testing facility and your employer before using these products. Green Compass cannot guarantee the outcome of customer drug tests.

*These statements have not been evaluated by the Food and Drug Administration. These products are not intended to diagnose, treat, cure or prevent any disease.