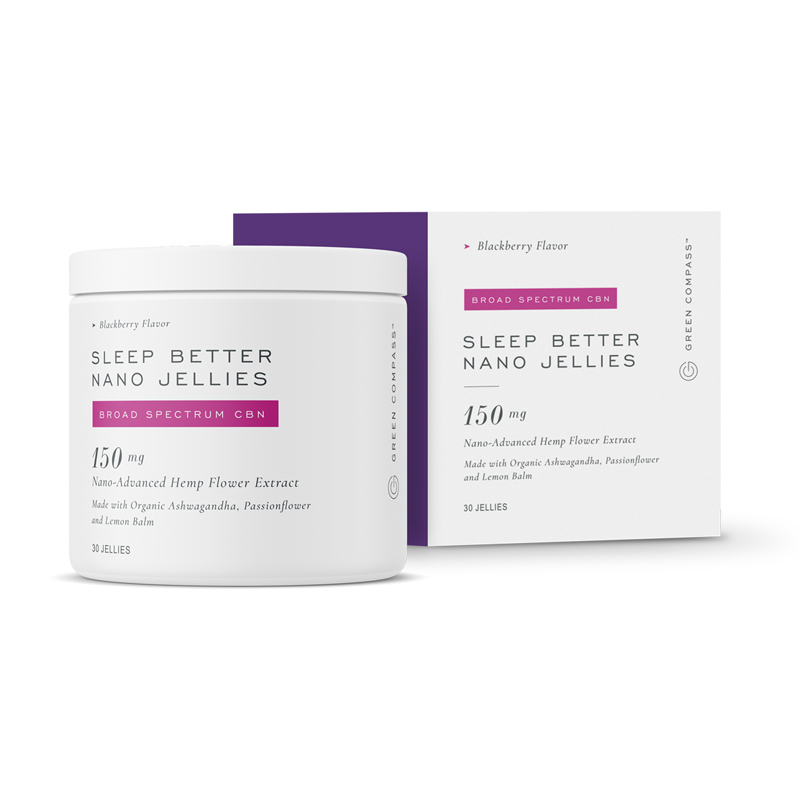 Best Seller
Sleep Better Nano Jellies – Blackberry Flavor
$59.96
$74.95 Retail Customer
Share
Log in to share this link using your FriendShare code and earn $10 for you and each of your friends!
Benefits
Sleep Better Jellies with Nano-Advanced CBN Hemp Flower Extract combine a dreamy blend of Ashwagandha, Passionflower and Lemon Balm to promote a restful night of sleep. A soothing formula helps to calm the mind and provide natural relaxation for healthy sleep cycles. Blackberry flavor gives you a taste of sweet dreaming and better daytime awareness. Good sleep without the fog.
Infused with Nano-Advanced CBN Hemp Flower Extract
Powerful blend of Ashwagandha, Passionflower and Lemon Balm to promote healthy sleep and relaxation
Improves sleep quality
Fall asleep faster and stay asleep for healthier sleep cycles
Promote overall mind and body wellness
Encourages calm and relaxation for a restful night of sleep
Soothing formula to promote natural relaxation without the fogginess
Product Information
KEY FEATURES :
• Proprietary Nano Technology
• Enhanced Bioavailability
• Air dried to protect Terpenes
• Small batch CO2 extracted
• Third Party Certificate of Analysis
• From our farms to your family
SUGGESTED USE :
• Take 1-2 Jellies at bedtime as needed.
• Please consult your physician before giving to young
children, or if you are pregnant, breastfeeding, or
taking other medications.
• Store in a cool, dry place.

Ingredients
Ingredients: Organic Cane Sugar, Organic Agave Syrup, Organic Tapioca Fiber Syrup, Water, Organic Blackberry Juice Concentrate, Natural Flavors, Organic Ashwagandha Extract, Pectin, Organic Lemon Juice Concentrate, Organic Fractionated Coconut Oil, Organic Glycerin, Organic Quillaja Extract, Organic Sunflower Lecithin, Organic Passionflower Extract, Organic Maltodextrin, Organic Lemon Balm, Organic Full Spectrum Hemp Flower Extract, Cannabinol, Silicon Dioxide, Citric Acid
Always consult your physician before using Hemp Extract products.

*All Green Compass products, including Broad Spectrum and Boost, could contain very trace amounts of THC that are below detectable levels by our third party lab tests. Products are tested by using liquid chromatography, detecting THC levels over 100 PPM. If you are subject to drug testing then you may want to consult with the testing facility and your employer before using these products. Green Compass cannot guarantee the outcome of customer drug tests.
*These statements have not been evaluated by the Food and Drug Administration. These products are not intended to diagnose, treat, cure or prevent any disease.