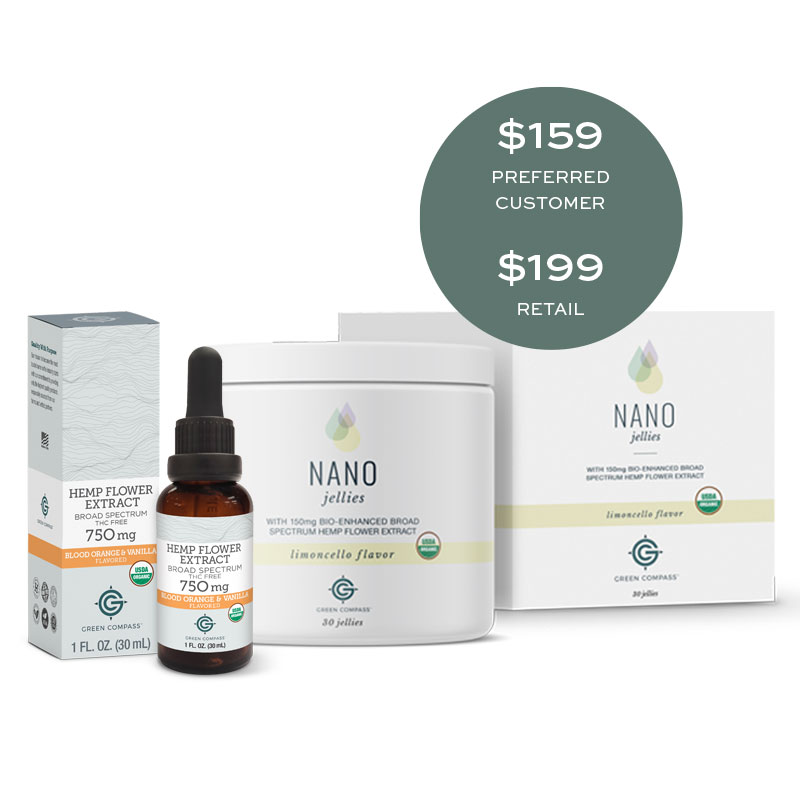 Balance and Restore - Lemon Jelly and 750mg Blood Orange
$159.00
$199.00 Retail Customer
Share
Log in to share this link using your FriendShare code and earn $10 for you and each of your friends!
Product Information
Nano Jellies are the first ever USDA Certified Organic gummies on the market that are made with nano emulsified Broad-Spectrum Hemp Flower Extract. Nano-emulsification of Hemp Flower Extract increases its absorption and bioavailability through the digestive tract up to ten-fold.
Green Compass's pure Hemp Flower Extract can help keep your body's systems balanced, giving you the chance to feel your best, mentally and physically. Broad-Spectrum contains a variety of therapeutic cannabinoids and terpenes but no THC*.
Always consult your physician before using Hemp Extract products.
*All Green Compass products, including Broad Spectrum and Boost, could contain very trace amounts of THC that are below detectable levels by our third party lab tests. Products are tested by using liquid chromatography, detecting THC levels over 100 PPM. If you are subject to drug testing then you may want to consult with the testing facility and your employer before using these products. Green Compass cannot guarantee the outcome of customer drug tests.

*These statements have not been evaluated by the Food and Drug Administration. These products are not intended to diagnose, treat, cure or prevent any disease.