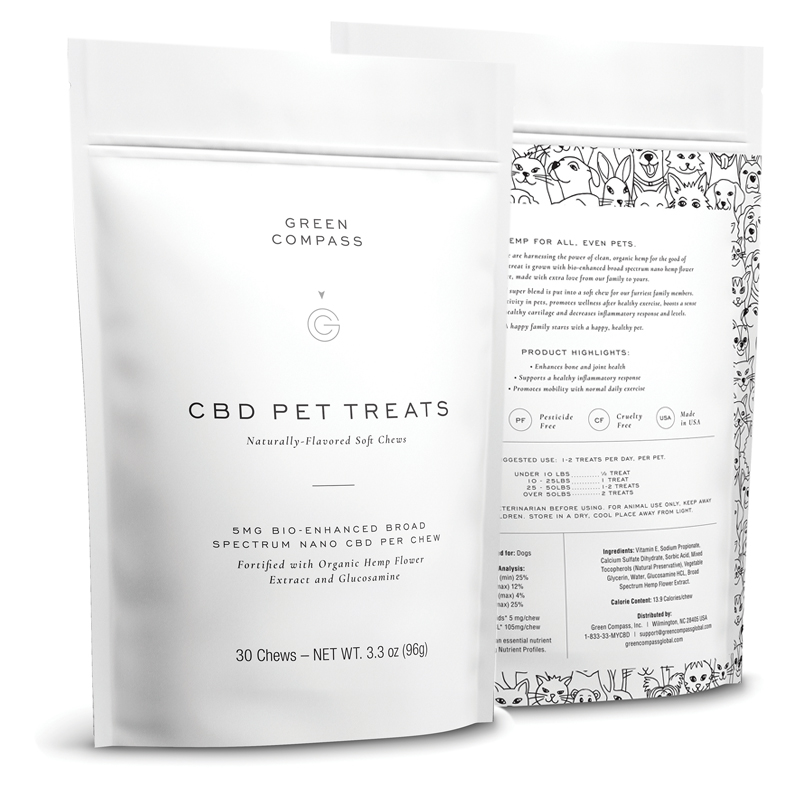 CBD Pet Treats
$47.96
$59.95 Retail Customer
Share
Log in to share this link using your FriendShare code and earn $10 for you and each of your friends!
Benefits
Organic Hemp Flower Extract promotes a sense of calm in pets

Fortified with Glucosamine to help increase activity in pets and promote wellness

Supports a healthy inflammatory response

Enhances bone and joint health

Supports healthy cartilage

Helps joints to move smoothly

Promotes healthy joint lubrication
Product Information
Naturally-flavored soft chews
5mg Bio-Enhanced Broad Spectrum Nano CBD Per Chew
30 chews
Info:
Hemp for ALL, even pets.
At Green Compass, we are harnessing the power of clean, organic hemp for the good of humanity and pets. This treat is grown with bio-enhanced broad spectrum nano hemp flower extract, made with extra love from our family to yours.
Our naturally-flavored super blend is put into a soft chew for our furriest family members. It also helps increase activity in pets, promotes wellness after healthy exercise, boosts a sense of calm, supports healthy cartilage and decreases inflammatory response and levels.
A happy family starts with a happy, healthy pet.


Suggested Use: 1-2 treats per day, per pet.
Under 10 lbs - ½ treat
10 - 25lbs - 1 treat
25 - 50lbs - 1-2 treats
over 50lbs - 2 treats
Consult your veterinarian before using. For animal use only, keep away from children.
Store in a dry, cool place away from light.
Ingredients: Beef Liver Powder, Organic Sweet Potato Powder, Microcrystalline Cellulose, Sunflower Lecithin, Vitamin E, Sodium Propionate, Calcium Sulfate Dihydrate, Sorbic Acid, Mixed Tocopherols (Natural Preservative), Vegetable Glycerin, Water, Glucosamine HCL, Broad Spectrum Hemp Flower Extract.